Washington – America's two top defense officials presented a dismal outlook on the situation in Iraq Wednesday during testimony before the House Armed Services Committee, even addressing possible U.S. policy if the country's current borders dissolve.
Defense Secretary Ashton Carter conceded that the U.S. did not move quickly enough to arm Iraqi Security Forces in their struggle against ISIS, and disclosed that the U.S. will train just 7,000 of the 24,000 Iraqi troops it had expected to by the fall due to a lack of recruits. Meanwhile, Gen. Martin E. Dempsey, the chairman of the Joint Chiefs of Staff, cautioned skeptical committee members that there are limits to what America can do to stabilize a country torn by sectarian strife and the advances of ISIS, also known as ISIL.
"I would not recommend that we put U.S. forces in harm's way simply to stiffen the spine of local forces," Dempsey said. "If their spine is not stiffened by the threat of ISIL or their way of life, nothing we do is going to stiffen their spine."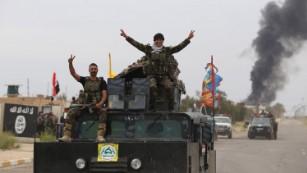 Carter and Dempsey delivered their outline of the Obama administration's strategy for countering ISIS as it contributes to an increasingly unstable Iraq, 12 years after the launch of the Iraq War. They also discussed training Sunni tribes' fighters as part of the decision announced last week to send 450 additional U.S. forces to the country.