They're found 150 meters below the ground, taller than a nine-storey building and, once complete, will store 9 million barrels of oil.
The Jurong rock caverns in Singapore are defying the challenge of limited land space by creating a deep underground storage facility for the city-state's oil reserves.
This is the first project of its kind in South-East Asia, but it has been tried before to great success elsewhere in the world.
"In Norway they use it for water treatment plans, in South Korea and Japan they use it for oil storage," says David Tan, Assistant Chief Executive Officer of the Technical & Professional Services Group at JTC Corporation who are handling the industrial development in Singapore.
After eight years in development, the first cavern opened in 2014, with four more in the pipeline.
Once complete, the Jurong caverns will consist of an underground network of tunnels storing almost 1.5 million cubic centimeters of liquid hydrocarbons, such as crude oil.
Building the economy
The $700 million dollar venture — just for phase one — aims to help Singapore's petrochemical industry prosper by clearing 60 hectares of land above ground for further industrial use.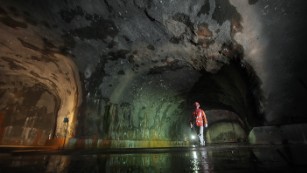 "The 60 hectares of land can be used for about 6 petrochemical plants," says Tan.
The petrochemical sector plays a key role in Singapore's $300 billion economy. But as the country has no natural resources to speak of, this income is not generated through oil itself, but through its processing and refinement.
According to Singapore's Economic Development Board, the country hosts one of the world's top three export refining centers.
The expansion provided by the Jurong rock caverns will make Singapore one of the largest chemical and energy hubs in Asia, helping to reach the nation's goal to double it's petrochemical production by 2030.
Controlling water-flow
The ambitious caverns in Jurong bring with them a range of challenges that engineers need to control, the biggest one being the ingress of water.
Water inside the walls of the cavern is inevitable — and necessary –and prevents the stored oil from leeching out into the rock. But it's a fine balance between too much and not enough.
"If too much water comes in, we have to grout the rock," says Tan whose organization strictly monitors the water coming in at all times.
Clearing space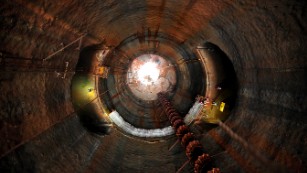 "Singapore is small, so any land is important," says Jian Zhao, Professor of Geomechanics at Monash University, Australia.
Zhao was previously at Nanyang Technical University in Singapore, where he worked on the planning behind the caverns. "Free land is a driving force," he says.
But this is not the first time the country has gone underground.
Aside from shopping malls and metro stations, the city-state's first deep underground facility was an underground ammunition facility by Singapore's Defence Science and Technology Agency — opened in 2001.
"We have good rock geologists in Singapore who can build caverns," says Zhao. "The idea is to make the city more liveable by putting everything undesirable underground."
Zhao envisions a future where power stations, electrical stations, waste facilities, water treatment plants, warehouses, and data centres could be moved underground.
More to come?
The Jurong rock caverns have already secured their first customer to ensure the underground space is used as intended.
With four more on the way, the mindset behind Singapore's infrastructure is changing.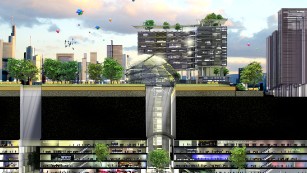 "Underground, everything is much more stable," says Zhao, referring to factors such as temperature, humidity and vibration.
Zhao believes more facilities can comfortably go underground. "We need to convince the public [that] underground space is nice and comfortable," he says.
Changes in perception may be needed as JTC are now looking into heading downwards for spaces housing people — rather than oil — in the form of an underground science city.
The facility could become a working environment for more than 4000 researchers. "[It's a] better environment for laboratories," says Zhao.
Zhao further envisions going even deeper, to enable underground spaces with multiple levels. "We've looked at multi-layers already," he says. But he notes the need for extensive planning — a strength of Singapore.
"Planning is important…because underground spaces you can't remove afterwards," says Zhao.
But as these visions are developed, their potential to become a reality will depend on the success of facilities such as the Jurong Caverns — considered by Tan as a prototype for underground developments in Singapore.
"A project like this will give us more confidence to carry out the next project underground," says Tan.
As reported by CNN