Two murderers meticulously planned their New York state prison break, possibly sneaking out of their cells under the cover of darkness to rehearse their escape in tunnels, authorities said.
Richard Matt and David Sweat planned to drive seven hours in the night to a predetermined location, together with the woman who allegedly helped them, said Clinton County District Attorney Andrew Wylie.
But Joyce Mitchell, who allegedly provided them with the tools to cut through prison walls, got cold feet and decided not to pick them up, he said.
Mitchell told investigators she planned to run off with the men after picking them up last week near a manhole where they'd emerge from a network of tunnels, Wylie said.
"They were going to meet down by the power plant, drive — I'm not going to say into the sunset, because it was after midnight and it was dark out — but they were going to drive, potentially to an area that was about seven hours away," Wylie said.
But she backed out.
DA: Convicts had a destination in mind
Mitchell told authorities that Matt and Sweat picked the destination.
She did not say where the trio planned to head to after the two prisoners broke out of Clinton Correctional Facility in Dannemora, officials said.
"That was the information that she was told by Matt and Sweat — that it was about seven hours away," Wylie said.
After her change of heart, she began cooperating with police.
"She did indicate one of the reasons why she didn't show up was because she did love her husband and she didn't want to do this to him," Wylie said.
She is now sitting in jail, accused of aiding in the brazen prison escape. The two convicted killers she allegedly helped are free, but on the run.
She pleaded not guilty Friday night to a felony charge of promoting prison contraband and a misdemeanor charge of criminal facilitation. Her next court appearance is Monday.
If convicted, Mitchell faces up to eight years behind bars.
Inmates saw them with cell phones
Interviews with prison inmates indicated that Matt and Sweat were seen with cell phones before they escaped, according to Wylie.
"But we have no proof of these cell phones," he said.
Wylie said authorities have been in contact with relatives and friends of Matt and Sweat who live elsewhere in the United States, but all of them said they hadn't heard from the convicts since they broke out of their maximum-security cells.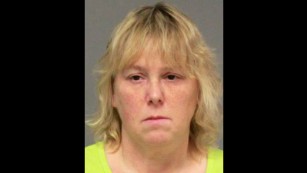 Convict made her feel 'special'
Matt and Sweat were discovered missing on June 6 during a 5:30 a.m. bed check at Clinton Correctional Facility.
While making their escape, they slipped through holes and cut into a steel plate and a steam pipe, then got out through the manhole and onto the street.
Mitchell supplied them with hacksaw blades, chisels, a punch and a screwdriver bit, according to court records.
In the weeks leading up to the escape, Wylie said, they may have been sneaking into the wall in the middle of the night to plan their escape route.
And, he said, the manipulation of Mitchell may go as far back as 2013, when the trio met.
Mitchell has told investigators that Matt made her feel "special," a source familiar with the investigation said.
Her husband and prison co-worker, Lyle Mitchell, is also under investigation, but has not been arrested or charged, authorities said. He worked in the maintenance department at the tailoring block where his wife was employed, Wylie said.
State Department of Corrections officials had received a complaint about the relationship between Joyce Mitchell and one of the two escapees. The department didn't find enough evidence to support the complaint, but that does not mean there was no relationship, Wylie said.
Intensified search
More than 800 state, local and federal law enforcement officers are searching for the escapees, New York State Police said. They have been following more than 700 leads developed in the weeklong manhunt.
Sweat was serving a life sentence with no chance of parole for the murder of a Broome County sheriff's deputy in 2002. Matt was sentenced to 25 years to life for the kidnapping and murder of a man in 1997.
The manhunt for the convicts has expanded in Plattsburgh, in upstate New York, where authorities have shut a portion of state Route 374.
Tracking dogs picked up their scent last week at a gas station in the town, where authorities believe they were rummaging through trash at a sandwich shop.
Wylie said earlier sightings have not led to any new clues.
As reported by CNN