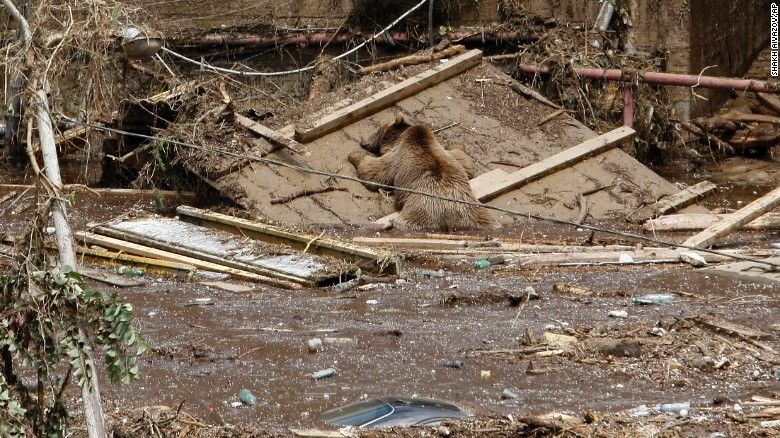 Wild animals roamed the streets of Tbilisi, the capital of Georgia, on Sunday, after raging floodwaters damaged the city's zoo and set many of the animals free.
Twelve people died in the flooding, according to Civil Georgia, a news website run by the nongovernmental organization UN Association of Georgia.
Several others were missing, and wolves, bears, big cats and even a hippopotamus were wandering the streets of the city, according to Civil.ge, a news agency funded by the EU and the UN.
Of the zoo's 600 residents, including fish and birds, about half were missing on Sunday, theTbilisi Zoo said.
Some animals have been recaptured, Civil.ge reported. Others have been killed.
Residents told to stay home
But some animals were still roaming loose.
Video from the city shows what appears to be a crocodile slithering down the city streets, as well as a hippopotamus standing around looking confused.
Also among the escapees were lions, tigers, bears and wolves, the agency reported. Georgia's prime minister, Irakli Garibashvili, asked residents to stay home while the animals are rounded up.
The Ministry of Internal Affairs also urged everyone to stay indoors but said in a statement that the situation was "under full control."
All efforts are being made to find the animals quickly, "give them injections," and get them back into the zoo, the ministry said.
Two employees of the zoo were among the fatalities.
The problems began before midnight Saturday. Heavy rainfall turned the Vere River, normally little more than a stream through the center of Tbilisi, into a torrent, the news agency reported.
The raging river flooded significant portions of a highway, swept away cars and at least one small house, and flooded many other homes.
Images on Tbilisi City Hall's Facebook page showed roads washed out, hillsides collapsed and vehicles tossed about like toys. Rescue workers carried people on their shoulders through waist-high water.
Police used a helicopter to evacuate 16 people from Akhaldaba, just west of Tbilisi, where heavy rain had damaged roads.
As reported by CNN