Video shows Palestinian civilian being beaten during violent protest in the West Bank as soldier yells, 'Get the cameras out of here.'
The IDF announced that an investigation would be launched as the result of a video spread on social media showing several Israeli soldiers beating a Palestinian man during a protest on Friday afternoon in Jalazun, north of Ramallah.
The video, filmed by Palestinian media in the presence of other journalists and photographers, shows an Israeli soldier audibly cursing a Palestinian civilian and swinging a rifle at him. Additional soldiers then join in the scuffle, bringing the Palestinian man to the ground at which point one of the Israelis can be heard yelling, "Get the cameras out of here."
The IDF said Saturday that the incident took place during what officials had defined as a violent disturbance involving 50-70 Palestinians who threw rocks. Some of the participants were also masked according to the IDF.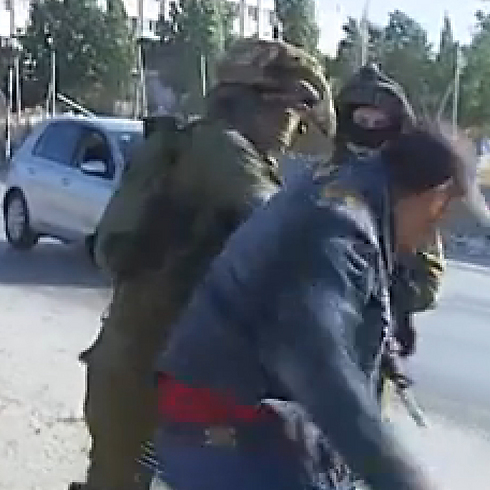 Soldiers reportedly used riot control measures to disburse the crowd. Soldiers eventually carried out arrest procedures and fired live rounds in the air. According to an IDF spokesperson, the incident in the video is, "known to commanders and will be investigated in depth."
The spokesperson also said, "Those involved will be brought before the regiment commander tomorrow for clarification and questioning regarding the incident and if needed we will take significant steps against them. Preliminary investigation gives the appearances that their behavior is not consistent with that expected of IDF soldiers."
According to the Palestinians, the civilian in the video is Shadi al-Habsi who took part in the protest event out of anger that a family member had been wounded previously by tear gas fired by Israeli soldiers. Reports said that soldiers had also used his house to take cover from people who were throwing rocks which caused damage to his house.
The Palestinians said that after his arrest, al-Habsi was taken to the nearby Beit El settlement. The IDF said that one officer was lightly wounded by a rock during Friday's violent protest and he was taken to Hadassah Hospital for medical treatment.
As reported by Ynetnews