Seoul, South Korea – In the third week of the MERS outbreak, South Korea is bracing for what national officials call "the most important period" in the effort to curb the spread.
So far, nine people have died after contracting MERS and confirmed cases are at 122. One of the new cases includes a pregnant woman.
More than 3,000 people in South Korea have been under quarantine in efforts to curb the Middle Eastern Respiratory Syndrome. But patients from the most-affected hospital are near the end of their mandatory quarantine period and health authorities are watching for whether they can be cleared this week.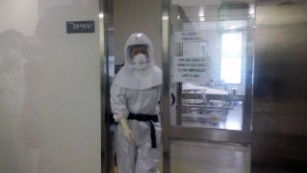 Also 641 people have been released from quarantine after they tested negative for MERS.
South Korea has been struck by the largest outbreak of MERS outside Saudi Arabia, where the virus was discovered. According to scientists, South Korea could have more cases before the outbreak is fully contained.
"We can expect to see further cases in the coming days and that will happen until everybody that has been infected, has not had the opportunity to transmit to other people," said Dr. Peter Ben Embarek, a World Health Organization scientist.
"As soon as people are identified as cases and isolated immediately, we should see decrease in cases."
On Wednesday, South Korean President Park Geun-hye's office announced that she had canceled her trip scheduled for Sunday to the United States to handle the outbreak.
"Since the first priority is to be placed on the safety of the nation, she will postpone the visit to U.S. and resolve the uneasiness of the public," said Kim Seong-woo, the chief press officer for the Blue House.
Disagreement over school closures
More than 2,400 schools remain shut in South Korea, including all kindergartens and elementary schools in Seoul's Gangnam district.
All schools in Gyeonggi province are scheduled to stay closed until Friday.
In a diverging opinion with Korea's education authorities, the World Health Organization urged reconsidering the closures given that "schools have not been linked to transmission of MERS."
Of the over 100 MERS cases in South Korea, only one teenager has tested positive for MERS.
MERS patient: 'It wasn't that serious'
The growing case count doesn't mean everyone with MERS has been gravely ill.
While some cases have been critical and resulting in deaths, some people have had little to no symptoms. A patient who had MERS described his experience with the disease to CNN affiliate YTN in South Korea.
"The muscle pain wasn't much — not to the extent I would have to take pills," said the doctor who was not identified. "If the flu pain is seven, MERS was about three to four. It wasn't that serious for my case."
But MERS is much more lethal for people who are already severely ill. Of those who've died in South Korea after contracting the virus, the deceased patients had pre-existing conditions including cancer, COPD and chronic heart disease.
The outbreak has triggered wall-to-wall coverage on South Korean television channels and daily government briefings after blistering criticism over its initial handling and lack of transparency.
MERS, which surfaced three years ago, is not well understood. Because the virus is still fairly new, doctors and scientists do not know its exact source or mode of transmission.
"I think that things will settle down shortly," said Professor Alimuddin Zumla, who co-authored a comprehensive review on MERS published in the Lancet.
He said that searching for MERS cases "always leads to finding positive cases, especially those who are asymptomatic, or think they have a common cold. The numbers will dwindle soon and the outbreak controlled in the next few weeks."
The virus is not considered to be very contagious, but South Koreans are being told to take basic preventative measures like keeping hands clean, covering coughs and avoiding personal contact.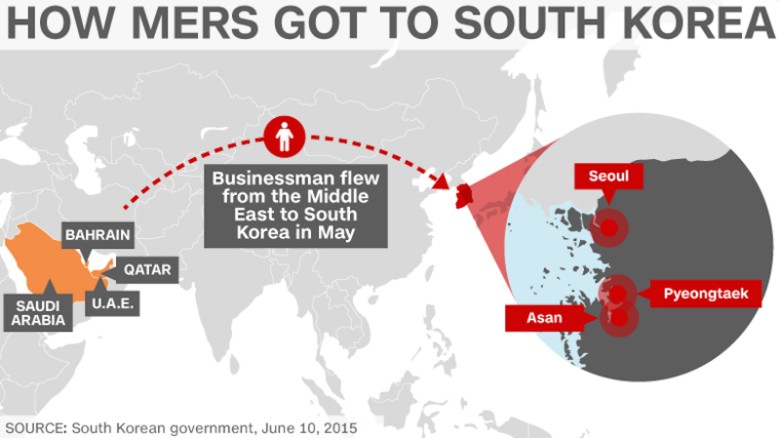 Toll on Korean economy
The toll to South Korea's economy is not yet clear as thousands of people have canceled their trips to the country over MERS concerns. Travel agencies in China are predicting a 70% drop in summer travel to South Korea, according to Xinhua, the state media agency. June and July are typically the busiest travel seasons for the country.
Hong Kong and Macau have raised a travel alert asking residents to avoid unnecessary travel to South Korea.
In an attempt to allay concerns, the South Korean government issued a new website in English with tips on safe travels in the country.
Several industries in South Korea including restaurants, transportation, local exhibitions and cosmetic firms have taken a financial hit related to MERS.
How to stop the spread
The case that began the South Korean outbreak was reported on May 20 after the Patient Zero visited four hospitals.
"The most important thing now is to stop the spread from hospitals," said acting Prime Minister Choi Kyung-hwan.
Both WHO and Korean officials say the transmission of the virus has not hit the general public and remains in hospital clusters.
"Outside of hospitals so far, the virus has no effect on everyday life," Choi said. "Everyone should go on as usual."
Experts from the World Health Organization arrived in South Korea to assess the pattern of the virus and to look at public health response efforts.
"In the coming days, we should have more comprehensive and detailed picture of the situation on the ground," said Embarek.
As reported by CNN