For British actor Michael Enright, the release of video footage by ISIS showing the August killing of U.S. journalist James Foley first motivated him to make the difficult journey into Syria to join the fight against the terror group.
"It was heartbreaking, it was shocking, it made me angry," he said. The subsequent killings of other hostages from Britain and Japan, and ISIS' persecution of the Yazidi minority in Iraq, only hardened his resolve to help out however he could, he said.
The 51-year-old, who's volunteering with Kurdish fighters in Syria, has now appealed for the United Kingdom to give the Kurds more help in their battle against the Sunni extremists.
Speaking to CNN from Rojava, a Kurdish enclave in northern Syria, Enright said the Kurdish forces had the heart and will to fight but needed more air support to cut off ISIS supply routes. The actor left Los Angeles in March for Syria, traveling via Turkey and Iraq.
Actor's role in Syria questioned
While Enright is clear his mission is to help the Kurds, whom he sees as friends and comrades, others have been more skeptical.
Last week, a former U.S. Army serviceman who has turned recruiter for foreigners eager to fight with Kurdish forces against ISIS claimed in a Facebook post that Enright was a liability who is in danger of being killed by his own comrades.
Jordan Matson of Sturtevant, Wisconsin, said that Enright had been kicked out of four fighting units and had been asked to leave twice by the Kurdish People's Protection Units, or YPG.
He also questioned the actor's state of mind, said he was carrying around an AK-47 that had been disabled by his own side, and suggested Enright was there writing a movie script.
Matson repeated some of these claims directly to CNN, which reported on the Facebook post, via an online chat forum. A second American fighting with the YPG also told CNN that Westerners had made threats against Enright.
Kurdish forces in Iraq and Syria have been among the most effective counterbalances to ISIS' expansion. In Syria, the YPG's high-profile battle to keep the town of Kobani from ISIS control dominated news coverage last year.
Enright rejects claims
Enright declined to name anyone behind the negative media coverage last week. But he insisted the claims made were not based on fact and said he was baffled by the coverage of what he described as "tittle-tattle" and Internet gossip.
He has two cameras with him, Enright said, and the Kurds — having learned that he was an actor who had worked in TV and movies — asked him to film what was going on. While in Hollywood, the actor played small parts in "Pirates of the Caribbean: Dead Man's Chest," "Old Dogs" and "Knight and Day."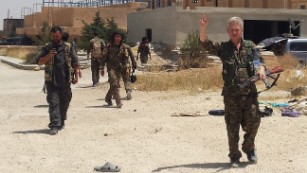 "I've not been asked to leave by four generals, I've not put a gun in my mouth or wanted to kill myself, I've not been threatened in any way by the Kurds," Enright said. "I love the Kurds and the unit I'm in is the best — it's something about being in a situation like this (that) brings out something very special, definitely, in me and in the lads that I could never replicate in civilian life."
He also said his gun was "just fine" and that he had never started writing a movie script and had no plans to do so.
"This is about the evil that is called ISIS and exterminating it from the face of the earth," he said, in response to claims he was interested in self-promotion. "It's about substantial things, real things."
Enright, originally from Manchester in northern England, said he was concerned about the impact of the negative coverage on his family back home, explaining that was the reason he was speaking to the media again now.
The real story is the suffering of the Syrian people and the efforts of the Kurds to push back ISIS, he said.
Asked by CNN about Enright's rejection of his claims, Matson stood by what he had said.
CNN has reached out to the YPG for comment but has not yet had a response.
Enright: 'We really, really do need help'
Enright called on the UK government under Prime Minister David Cameron to revisit its decision not to deploy air support for anti-ISIS fighters in Syria.
Britain launched its first airstrikes against ISIS in Iraq last fall, following authorization from the UK Parliament. But the motion passed by lawmakers stipulated that any proposal to expand the strikes to Syria would require additional action by Parliament.
Enright said that the Kurds were being hampered in their fight by the continued existence of ISIS-controlled territory between the areas they control — the Kurdish cantons of Kobani, Cizire and Efrin — which allow the Sunni extremists to maintain supply lines from over the Turkish border.
He had seen evidence of this firsthand in villages the Kurds liberated from ISIS, he said, where the extremists left behind packaging for food from Turkey.
"I know (Cameron) has a lot on his plate right now with the European Union, Ukraine, but if it's possible we really, really do need help," he said.
As for his own role in Syria, Enright said he was not making plans for the future but had made a commitment to stay until ISIS was completely pushed out of Rojava.
As reported by CNN