Washington – CNN contacted in recent days more than 80 offices for Republican lawmakers in the House and Senate to see if any had concerns about President Donald Trump's remarkable public call for foreign governments to investigate Joe Biden, a leading Democratic candidate to replace him as President, and Biden's son Hunter.
Only a few responded; just a handful have expressed misgivings to CNN or other outlets.
In his own statement that later drew a rebuke from the President, Republican Sen. Mitt Romney of Utah called Trump's words "wrong and appalling."
"When the only American citizen President Trump singles out for China's investigation is his political opponent in the midst of the Democratic nomination process, it strains credulity to suggest that it is anything other than politically motivated. By all appearances, the President's brazen and unprecedented appeal to China and to Ukraine to investigate Joe Biden is wrong and appalling," Romney said in that statement.
Sen. Ben Sasse of Nebraska, an occasional critic of Trump's who is running for reelection in that conservative state, said in a statement to the Omaha World Herald that if Hunter Biden did something wrong, he should be prosecuted in the US courts, not investigated by China.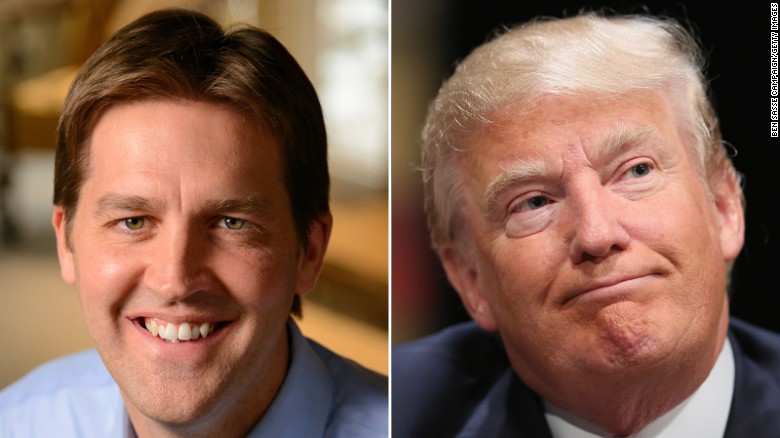 There's no evidence that former Vice President Joe Biden received any money from China. And a lawyer for Hunter Biden pushed back on Trump's characterization, calling it "a gross misrepresentation."
Republican Rep. Will Hurd of Texas, a member of the House Intelligence Committee, also reacted critically to Trump's call for China to investigate the Bidens.
"I think it's terrible. It's something that I wouldn't have done," Hurd told CNN's Alisyn Camerota on "New Day" on Friday. "China is an adversary. … We are in a tight and complex trade negotiation with China now, and so you are potentially giving them something to hold over your head. … So I think that is something that a President of the United States shouldn't be doing."
Trump's public effort to enlist China to investigate a political rival mirrored his moves on a private phone call in July when he urged the President of Ukraine to investigate the Bidens. When a whistleblower filed a complaint about the Ukraine matter, it triggered an impeachment inquiry in the House that could doom Trump's presidency. There is no evidence of wrongdoing by Joe or Hunter Biden in Ukraine.
But when aides to GOP lawmakers, most of whom are away on a two-week recess, were asked if their bosses had qualms about Trump seeking what amounts to foreign interference in a US election or if they supported the impeachment inquiry, no member of the House or Senate Republican leadership would say it was problematic or should be investigated.
Nor would members of relevant and investigative committees, including the House and Senate Intelligence committees, which are both actively investigating the Ukraine complaint, nor the House and Senate Judiciary committees or the House and Senate committees overseeing foreign affairs and the State Department.
An aide to GOP Sen. Richard Burr of North Carolina, the chairman of the Intelligence Committee, who vowed last week that his committee would "get to the bottom of questions (that) need answers" about Ukraine, responded to an email but declined to comment about Trump's remarks on China.
A few other Republicans — including Sen. John Thune of South Dakota, the number two Senate Republican, and Sen. Ted Cruz of Texas — have expressed misgivings about Trump's pressure on Ukraine.
Why the silence? Trump holds powerful sway over congressional Republicans, largely because he is wildly popular with the same Republican voters who will decide whether to reelect these lawmakers. Most who defy Trump end up out of office, about the last place any politician wants to be.
Here is the list of Republican lawmakers contacted by CNN, including any responses from them or their aides provided to CNN and other news outlets. This list will update as CNN receives additional responses.
US Senate
Sen. Lamar Alexander, Tennessee: "The Senate Intelligence Committee is determining the facts in the Ukraine whistleblower matter, and I want to know the facts before I comment," Alexander said in a statement.
Sen. John Barrasso, Wyoming
Sen. Marsha Blackburn, Tennessee
Sen. Roy Blunt, Missouri: "I doubt if the China comment was serious to tell you the truth," Blunt told CBS News.
Sen. John Boozman, Arkansas
Sen. Richard Burr, North Carolina
Sen. Shelley Moore Capito, West Virginia
Sen. Susan Collins, Maine
Sen. John Cornyn, Texas: An aide said he would update CNN if he had comments.
Sen. Tom Cotton, Arkansas
Sen. Mike Crapo, Idaho
Sen. Ted Cruz, Texas: His staff responded and directed CNN to Cruz's comments about Ukraine on an MSNBC podcast. "I would have wished the President had not gone down that road. Because at a minimum there is an appearance that I wish he had not opened the door to."
Sen. Steve Daines, Montana
Sen. Mike Enzi, Wyoming
Sen. Joni Ernst, Iowa
Sen. Cory Gardner, Colorado
Sen. Lindsey Graham, South Carolina
Sen. Chuck Grassley, Iowa
Sen. Josh Hawley, Missouri
Sen. Johnny Isakson, Georgia: "He has not weighed in and has said he will review all matters should they come before the Senate," a spokeswoman told CNN.
Sen. Ron Johnson, Wisconsin: An aide said he would check.
Sen. John Kennedy, Louisiana
Sen. James Lankford, Oklahoma
Sen. Mike Lee, Utah: An aide said he hadn't asked the senator about this.
Sen. Mitch McConnell, Kentucky: An aide said he would forward any comment if the majority leader had any.
Sen. Martha McSally, Arizona
Sen. Lisa Murkowski, Alaska
Sen. Rand Paul, Kentucky
Sen. Rob Portman, Ohio: Portman told the Columbus Dispatch: "The president should not have raised the Biden issue on that call, period. It's not appropriate for a president to engage a foreign government in an investigation of a political opponent."
Sen. James Risch, Idaho: An aide said he would let us know if the senator had comments.
Sen. Mitt Romney, Utah: "When the only American citizen President Trump singles out for China's investigation is his political opponent in the midst of the Democratic nomination process, it strains credulity to suggest that it is anything other than politically motivated. By all appearances, the President's brazen and unprecedented appeal to China and to Ukraine to investigate Joe Biden is wrong and appalling," he said in a statement.
Sen. Mark Rubio, Florida: Rubio told reporters last week he didn't think Trump was making a serious request to China and that the President was "needling the press, knowing that you guys were going to get outraged by it."
Sen. Ben Sasse, Nebraska: "Hold up: Americans don't look to Chinese commies for the truth," Sasse tweeted. "If the Biden kid broke laws by selling his name to Beijing, that's a matter for American courts, not communist tyrants running torture camps."
Sen. Rick Scott, Florida
Sen. Tim Scott, South Carolina
Sen. John Thune, South Dakota: An aide said they would check.
Sen. Thom Tillis, North Carolina
Sen. Pat Toomey, Pennsylvania
Sen. Todd Young, Indiana
US House of Representatives
Rep. Kelly Armstrong, North Dakota
Rep. Andy Biggs, Arizona
Rep. Ken Buck, Colorado
Rep. Tim Burchett, Tennessee
Rep. Steve Chabot, Ohio
Rep. Liz Cheney, Wyoming
Rep. Ben Cline, Virginia
Rep. Mike Conaway, Texas
Rep. Rick Crawford, Arkansas
Rep. John Curtis, Utah
Rep. Brian Fitzpatrick, Pennsylvania
Rep. Matt Gaetz, Florida
Rep. Louie Gohmert, Texas
Rep. Mike Guest, Mississippi
Rep. Will Hurd of Texas: "I think it's terrible. It's something that I wouldn't have done," Hurd told CNN's Alisyn Camerota on "New Day" on Friday. "China is an adversary. … We are in a tight and complex trade negotiation with China now, and so you are potentially giving them something to hold over your head. … So I think that is something that a President of the United States shouldn't be doing."
Rep. Mike Johnson, Louisiana
Rep. Jim Jordan, Ohio: "You really think that he was serious about thinking that China's going to investigate the Biden family? I think he's getting — as I think Sen. Rubio said a couple days ago, I think he's getting the press all spun up about this. Remember, this is the president who's been tougher on China than any other president," Jordan told ABC News.
Rep. Adam Kinzinger, Illinois
Rep. Debbie Lesko, Arizona
Rep. Brian Mast, Florida
Rep. Kevin McCarthy, California
Rep. Michael McCaul, Texas: His office responded to requests for comment and said they would get back to CNN but have not responded.
Rep. Tom McClintock, California
Rep. Devin Nunes, California: "Until CNN retracts the dozens of false stories it ran insinuating that Trump and his associates are Russian agents, it should refrain from reporting on Trump's interactions with any foreign country," said a statement from Nunes spokesman Jack Langer.
Rep. Gary Palmer, Alabama
Rep. Greg Pence, Indiana
Rep. Scott Perry, Pennsylvania
Rep. John Ratcliffe, Texas
Rep. Guy Reschenthaler, Pennsylvania
Rep. Martha Roby, Alabama
Rep. Francis Rooney, Florida
Rep. Steve Scalise, Louisiana
Rep. Jim Sensenbrenner, Wisconsin: "If Speaker Pelosi actually believes that the House ought to be conducting an impeachment inquiry, then the House needs to vote to authorize one. If the House supports it, the President will be afforded his due process rights. If it fails — which I suspect the Speaker is afraid of happening — we can move on from this mess and get back to doing what we were elected to do," Sensenbrenner said in a statement.
Rep. Christopher Smith, New Jersey
Rep. Elise Stefanik, New York
Rep. Gregory Steube, Florida
Rep. Chris Stewart, Utah
Rep. Michael Turner, Ohio
Rep. Ann Wagner, Missouri
Rep. Mark Walker, North Carolina
Rep. Steve Watkins, Kansas
Rep. Brad Wenstrup, Ohio
Rep. Joe Wilson, South Carolina
Rep. Ron Wright, Texas
Rep. Ted Yoho, Florida
Rep. Lee Zeldin, New York
As reported by CNN