Hong Kong – Beijing may have removed missile systems from a disputed island in the South China Sea even as it accused the US of sending "attacking weapons" to the region.
The deployment of a number of missile systems to the Spratly and Paracel Islands in May sparked an angry rebuke from Washington about Beijing's "militarization" of the sea, almost all of which is claimed by China.
It was followed by a B-52 bomber flyover of the Spratlys this week, which the US said was part of a "routine training mission."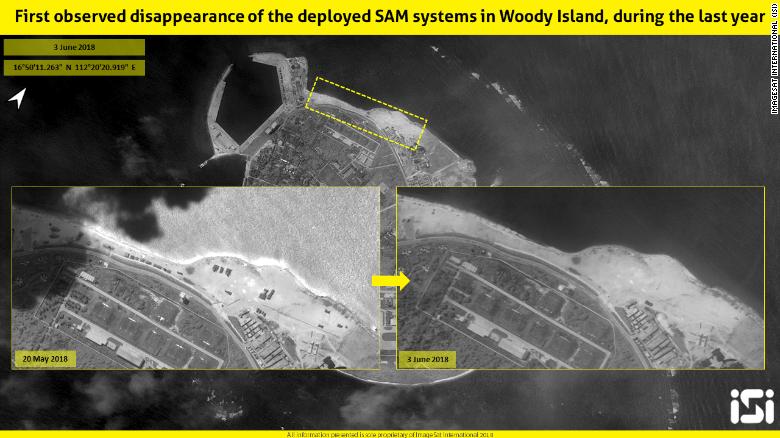 New analysis from Israeli intelligence firm ImageSat International (ISI) suggests the Chinese missile systems may have been removed or relocated.
Two US defense officials told CNN that it is very unlikely China has totally removed the missile system. Instead, the US has assessed that the Chinese have likely concealed them inside buildings.
On Wednesday, Beijing said it was the US, not China, which was militarizing the region.
"I hope the US can explain to everyone: Isn't it militarization when you send attacking weapons like the B-52 bombers to the South China Sea? Were the B-52s there for freedom of navigation and overflight? If someone frequently flexes his muscles or snoops around near your house, shouldn't you raise your alertness and improve your defense capabilities?" Chinese Foreign Ministry spokeswoman Hua Chunying said at a regular press conference.
"China will not be intimidated by any planes or ships. We will only be firmer in our resolve to take all necessary measures to safeguard our sovereignty and security as well as maintain peace and stability in the South China Sea."
Missile systems
Previous satellite imagery showed a number of missile launchers and a radar system on the shore of the disputed Woody Island in the Paracel chain, covered by camouflage netting.
Those have now disappeared, in what ISI said could indicate a decision by Beijing to remove them, or redeploy them to other parts of the South China Sea.
"On the other hand, it may be a regular practice," the firm said. "If so, within the next few days we may observe a redeployment in the same area."
Other analysts agreed, saying it could be because the missiles were not suited to deployment where they might be vulnerable to salt water damage, and therefore may have required replacement or repair.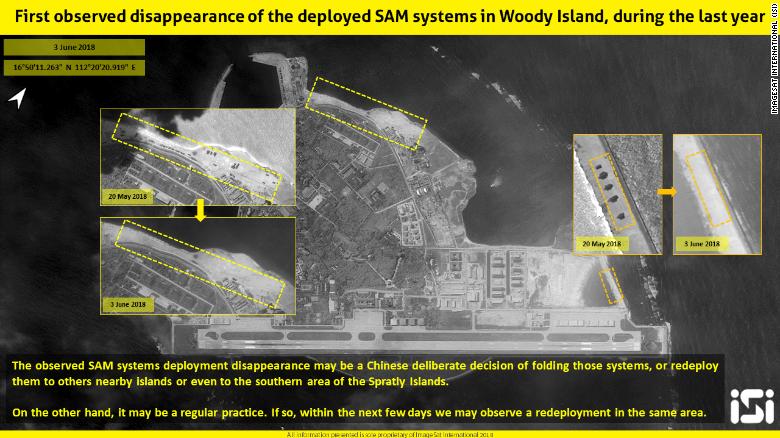 Rising tensions
In recent months US officials have said that the Chinese military has deployed anti-ship missiles, surface-to-air missile systems, and electronic jammers to contested features in the Spratly Islands region of the South China Sea.
China also recently landed a nuclear-capable H-6K bomber aircraft on Woody Island for the first time.
After the US raised objections about the deployment of missile launchers to the Spratlys, China said "necessary national defense facilities" had been added to the islands, reiterating Beijing's "indisputable sovereignty" over the territory.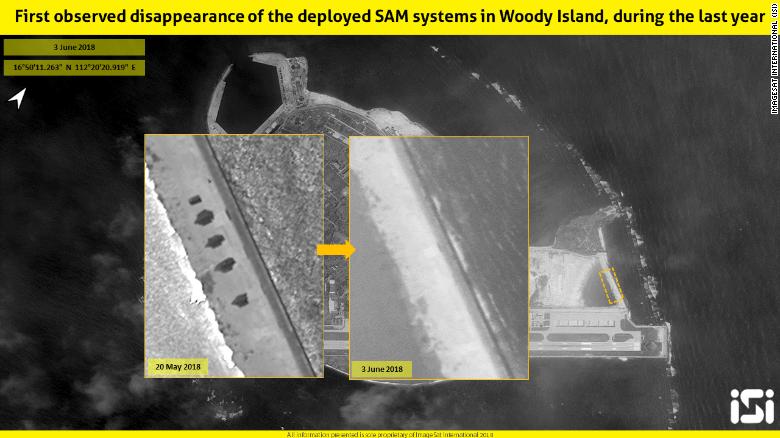 In response, the US disinvited China from a major maritime exercise in the Pacific involving more than 20 countries, in what one analyst described as demonstrating "the days of appeasement are over."
"Despite China's claims to the contrary, the placement of these weapon systems is tied directly to military use for the purposes of intimidation and coercion," US Secretary of Defense James Mattis said at a summit in Singapore this week.
"Make no mistake: America is in the Indo-Pacific to stay. This is our priority theater."
Other delegates to the gathering of regional defense chiefs also expressed concern over China's increasing activity in the South China Sea and its attempts to disrupt what is known as the "rules-based order."
As reported by CNN