In statement addressed to India, PA regrets Pakistani envoy Walid Abu Ali shared stage at rally against US J'lem declaration with individuals linked with 2008 Mumbai attacks.
The Palestinians have withdrawn their envoy to Pakistan after he appeared at a rally in Rawalpindi with a radical cleric linked to the 2008 Mumbai attacks.
Palestinian envoy Walid Abu Ali shared the stage at Friday's rally, held to protest the US recognition of Jerusalem as the capital of Israel, with Hafiz Saeed, the head of the Jamaat-ud-Dawa movement.
The rally in Rawalpindi, attended by thousands, was organized by the Defense of Pakistan Council, an alliance of religious parties dominated by Saeed's group. Jamaat-ud-Dawa is believed to be a front for Lashker-e-Taiba, a militant group that fights Indian troops in the disputed region of Kashmir, and which was blamed for the November 2008 Mumbai attacks, which killed 166 people.
Saeed, the founder of Lashker-e-Taiba, is wanted by the United States, which has offered a $10 million reward for his arrest, but Pakistan has refused extradition requests and allows him to operate relatively freely. He was recently placed under house arrest for 11 months but was released after a court ruled in his favor.
Saeed denies involvement in the 2008 attacks, and Pakistan says India has not provided enough evidence to charge him. US officials have long accused Pakistan of harboring extremists, allegations denied by Islamabad.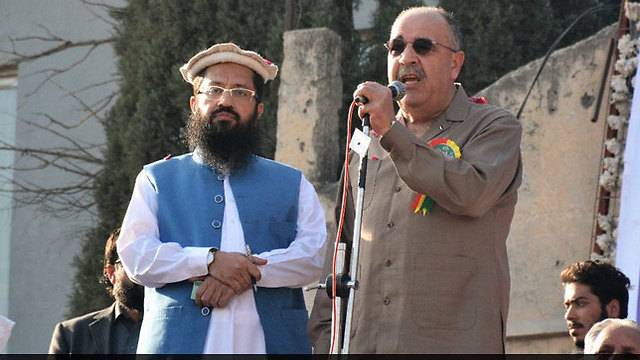 In a statement Saturday addressed to India, the Palestinian Ministry of Foreign Affairs said the envoy's participation "in the presence of individuals accused of supporting terrorism" was "an unintended mistake, but not justified." It said the envoy has been recalled.
India had lodged a protest with the Palestinians earlier Saturday, calling the envoy's association with Saeed "unacceptable."
Pakistan's Foreign Ministry defended the envoy, saying it welcomed his "active participation in events organized to express solidarity with the people of Palestine."
India harshly protested to the Palestinian Authority Friday, after the Palestinian ambassador to Pakistan shared a stage in a rally held in the Pakistani city of with Saeed, who is the leader of the Lashkar-e-Taiba terrorist organization and mastermind of the 2008 Mumbai terrorist attacks Hafiz.
Indian media outlets reported the country's government announced its displeasure to the Palestinians in no uncertain terms. Spokesman for the Indian Foreign Ministry Raveesh Kumar said, "We are taking up the matter strongly with the Palestinian ambassador in New Delhi and with the Palestinian authorities."
Palestinian ambassador Walid Abu Ali's photos from Pakistan were disseminated on social media after it was reported he had attended a rally organized by the Difa-e-Pakistan Council in a Rawalpindi park.
As reported by Ynetnews