As a young boy in the radical Hasidic Satmar group in Brooklyn, Chaim Meisels dreamed about Israel and about serving in the IDF. In an emotionally moving Facebook post, he explains why he left his wife, child and community and decided to become a combat soldier; 'Where there's a will there's a way,' he writes.
Chaim Meisels, the great grandson of the Satmar Rebbe, Moshe Teitelbaum, has come a long way since his childhood in the radical Hasidic group in Brooklyn, New York, until he received his officer's ranks during a ceremony at the Bahad 1 military training base in southern Israel last week.
On the way, he faced hurdles and difficulties as well as a lot of pain, but also huge success. He shared his experience in an emotionally moving Facebook post titled "Where there's a will there's a way."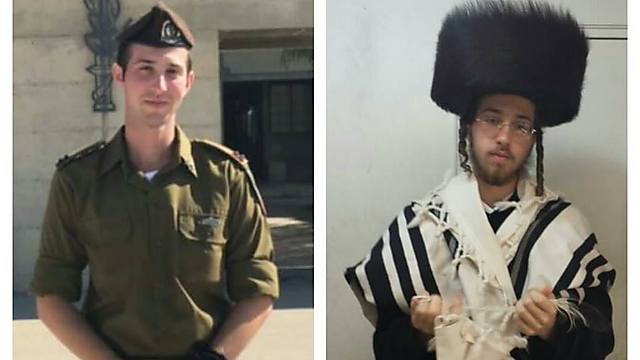 "Why did I leave a wife, a child, family, friends and a successful job and decide to become a combat soldier?" he asks before sharing his story: His loss of faith, his marriage at the age of 17 and the birth of his daughter, who is four years old today, and the dream that was always there—to serve the State of Israel, which he fell in love with at the early age of 11 during his first visit to the country, despite being brainwashed against it.
As a Haredi child in Brooklyn, he says in the post, "I had a feeling that something was missing, and I didn't know what. My first visit to Israel was at the age of 11. I discovered the State of Israel, the Jewish state. I didn't know yet how it would affect me, but I felt I had found my home.
"When we returned to Brooklyn a few days later, I felt like a different person. Suddenly there was something I connected to, the State of Israel. But because I am the grandson of the Satmar Rebbe, and the community I grew up in doesn't support the state, I had no one to talk to about it."
Under the chuppah at 17
He returned to Israel at the age of 15, this time to study in a yeshiva in Bnei Brak. "The only language I spoke at the time was Yiddish, and I was unable to communicate with the outside world like I wanted to.
"When I returned to the United States a year later, I bought a phone with Internet access (which we were not allowed to own in the yeshiva) and decided to learn English, learn about Israel and a little about the big world."
The changeover began the age of 17, he says in his post, when "I realized that I wanted to leave the Haredi world, but most of the people I knew who had left didn't succeed. The social gap and the language made it difficult for them to deal with a different kind of life.
"I decided to turn to the rabbi and tell him that had not observed Shabbat for years, that I no longer felt connected. His answer was that I got where I was because I wasn't married yet, and that as soon as I had a wife of my own I would no longer want to leave, because girls would no longer make me happy. He explained that once I was married I could do more and help outside the yeshiva—and I would be a freer person.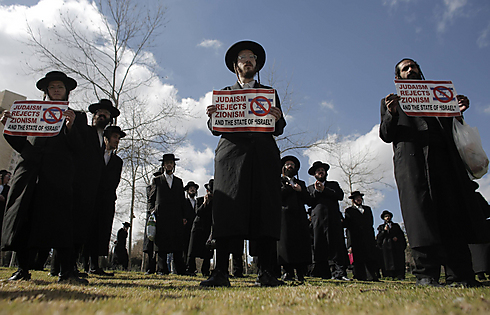 "Two weeks later, I'm meeting with the girl's parents and being asked questions about the Talmud, etc. I pass the test. I have a meeting with the girl while our parents are in the other room. After a 50-minute conversation with her, I agreed. We got engaged that same night."
Several months later, the couple met under the chuppah, but the rabbi's promises failed to be realized. "Right after the wedding, I realized I was not really connecting with her. While I'm thinking about the State of Israel, she's thinking about what the rabbi said.
"Six weeks later, I come home and my wife tells me she's pregnant. I was happy, I was very excited, until I slowly began to think about what I had done. How was I going to raise a Haredi child in a world I disagree with? I knew it was too late, that the girl was about to come into the world at any moment and that I was about to become a father in a second.
"I couldn't stay any longer. I gave it a lot of thought, I tried to speak to people on the outside, friends who had left and those who remained.
"I left. I bid farewell to my wife and to the community, and most of my family left me," he writes. "I found a good job. I started life from scratch, and like a little child I learned how to dress (in clothes that weren't black and white), and how to talk to people."
'I was told I had no chance in the army'
Now, he was left with the dream to serve the state. "A few months before Operation Protective Edge, almost a year after I left the community I grew up in, I decided I wanted to enlist in the IDF. I registered through the Garin Tzabar program to make aliyah, but after two meetings they told me that because I was 19, divorced with one child, I wasn't suitable for the army. Even the friends around me said I wouldn't succeed in the army. They said I had no chance."
But Meisels didn't despair. "I bought a plane ticket and arrived in Israel on my own. At first, a friend got me in touch with the Chayal el Chayal Lone Soldier Home in memory of Michael Levin and with Tziki Aud, who has helped me out tremendously. In August 2014, I joined a Hebrew course at the at the Michve Alon base. After three months of basic training and a course, I reached the Golani Brigade and made it into the elite Egoz unit. I didn't tell anyone my story. I was afraid that like in Garin Tzabar, they would think I was unsuitable.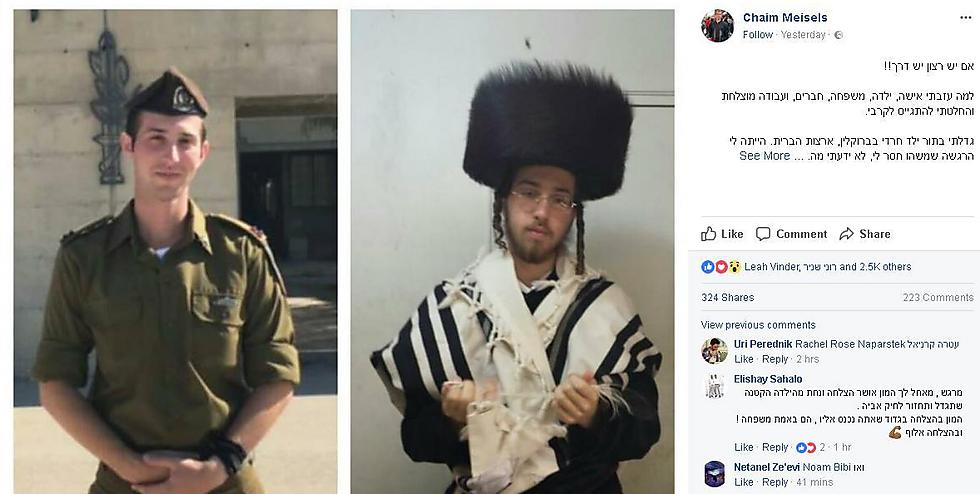 "At the beginning of the course, I lagged behind and failed to become one of the leading team members. So after a year, when I wanted to start a commanders' course, they wouldn't let me. After consulting with Rabbi Hoshea Friedman, the Pashkaner Rebbe (and a brigadier-general in the IDF), I chose to leave the unit and move to the brigade.
"I went to a squad commanders' course, and after a short sick leave I came back as a commander in Golani's 13th Battalion. After a few months in this position, I started an officers' course, where I learned for eight months how to be a good and professional office and how to accomplish every mission needed to defend the State of Israel."
Hoping to renew contact with daughter
Today, Meisels lives on his own in Beit Giora, a building in Jerusalem's Kiryat Yovel neighborhood, where all tenants are lone soldiers.
"Rivka, my daughter, is already four years old," he writes. "Her family won't let us be in touch because I'm not Haredi.
"I hope that one day, when she grows up, I'll be able to renew contact with her and explain to her why I had to leave her and immigrate to Israel; explain to her that I chose a different way from what she is familiar with.
"I love my family, who simply doesn't understand or accept my view of the world. I chose a road of Judaism that is different from theirs—a Judaism in which standing up and defending the Jewish people's state is just as important and huge as studying Torah.
"As of next week," he concludes his post, "I'll be a platoon commander in a squad commanders' course, and I'm going to invest in building the IDF's new commanders.
"The reason I'm telling you this is for you to learn that where there's a will, there's a way. No matter what people tell you or who tells it to you—if you really want to succeed and are willing to make an effort, you'll eventually succeed. We have the best army in the world, and it doesn't matter where you came from and what you've done until now. If you give it your 100 percent, you'll find the way."
As reported by Ynetnews