His life seemed mundane enough.
After moving from Uzbekistan in 2010, Sayfullo Habibullaevic Saipov bounced across the United States and eventually settled down in New Jersey with his wife and three children, driving for Uber, officials said.
Yet somehow along the way, Saipov became "radicalized domestically," New York Gov. Andrew Cuomo said.
Those radical thoughts culminated in Tuesday's attack, when Saipov plowed into a crowd of pedestrians and bicyclists just blocks away from the World Trade Center, authorities said. At least eight people were killed in New York CIty's deadliest terror attack since 9/11.
"It appears that Mr. Saipov has been planning this for a number of weeks. He did this in the name of ISIS," said John Miller, New York Police Department deputy commissioner for intelligence and counterterrorism.
"He appears to have followed — almost exactly to a T — the instructions that ISIS has put out in its social media channels before, with instructions to their followers on how to carry out such an attack."
Here's what we know about the 29-year-old suspect:
His journey to and across the US
Saipov came to the United States in 2010 on a diversity visa, the Department of Homeland Security said. He has since become a legal permanent resident, Miller said.
In 2013, Saipov married another Uzbek, Nozima Odilova, in Cuyahoga Falls, Ohio, sources said. He was 25 and she was 19. On his marriage license, Saipov's occupation was listed as truck driver.
While in Ohio, Saipov registered two companies: Sayf Motors Inc. in 2011 and Bright Auto LLC in 2013. The latter was listed as a "motor carrier" in a Department of Transport database.
An acquaintance who lived in the same area of Ohio said he knew Saipov through the Uzbek community. Mirrakhmat Muminov said Saipov seemed like a "nervous person." But he did not see any signs of radicalization in Saipov, Mirrakhmat said.
Muminov said he knew Saipov had a wife from New York, but he never met her due to gender-separation customs. From Ohio, the couple moved to Florida and joined the Uzbek community there, Muminov said.
At one point, Saipov lived with his family at the Heritage at Tampa apartments.
"Based on our review of rental history for the property, the suspect in question was a former resident," said Mike Oliveri of Bridge Real Estate Group. "We are fully cooperating with law enforcement to provide any information requested."
Law enforcement sources said Saipov most recently lived in New Jersey, where the truck used in Tuesday's attack was rented.
One neighbor in Paterson, a city of 140,000 northwest of New York City, said Saipov was known as a peacemaker.
Carlos Batista recalled one night about six months ago when he was riding his dirt bike. He said Saipov's friends asked him to stop because it was too loud, and the situation got testy.
Batista said Saipov stepped in as the "peacemaker" and "calmed everything down."
While living in New Jersey, Saipov drove for Uber. Saipov passed his last background check for the company in July. Uber said it is "aggressively and quickly reviewing" his history with Uber and "at this time we have not identified any related concerning safety reports."
Saipov has been removed from the app.
Saipov's mother-in-law lives in a Brooklyn neighborhood that's home to Uzbek immigrants. When approached in the lobby of her apartment building, she said she was in shock and had no idea what happened. She would not say if authorities contacted her. Shortly after the conversation, an NYPD van pulled up to the building, and several people from the vehicle went inside.
His run-ins with the law
Before Tuesday, Saipov's run-ins with the law mainly involved traffic violations.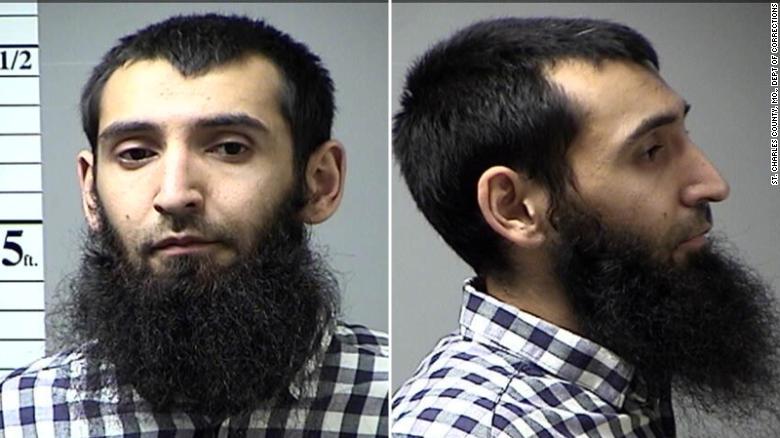 In December 2015, the truck driver was ticketed for an equipment violation in Missouri after his tractor-trailer was found to have cracks in the brake lining, according to a statement obtained by CNN affiliate KMBC.
Saipov had the option of paying a $129.50 fine or notifying officials that wanted to plead not guilty, but Saipov did neither, the prosecutor said.
A warrant was issued for Saipov's arrest, and he was taken into custody in Missouri in 2016. He posted a $200 bond.
On the federal level, Saipov had never been the subject of an FBI investigation.
New York police had never dealt with Saipov as part of an intelligence investigation, either, Miller said.
"What we are looking for is how has he touched the subjects of other investigations," Miller said. "It appears he will have some connectivity to individuals who were the subjects of investigation, though he himself was not."
<h3
After mowing down the crowd in Manhattan, Saipov crashed into a school bus and left his rented truck while brandishing a pellet gun and paintball gun, officials said.
An NYPD officer shot Saipov in the abdomen. After undergoing surgery, Saipov was questioned by investigators and was somewhat cooperative, a law enforcement official said.
Saipov has been linked to social media accounts that contain ISIS-related material, a law enforcement official said.
Near the truck, authorities said they found a note, handwritten in Arabic, expressing affinity for ISIS.
"The gist of the note was the Islamic State would endure forever," Miller said.
ISIS has not made any claim of responsibility for the attack.
As reported by CNN