Op-ed: From the disabled people's protest through the war on religionization in schools to the anti-corruption demonstrations, Israel's civil society is finally waking up. The large majority is still indifferent, but small groups of determined people are succeeding in creating a change.
The political system will wake up from its holiday slumber next week, and Prime Minister Benjamin Netanyahu's coalition will its march toward the second half of its term. Those who bet on an unstable government, and hoped the apparent hatred between the Bennett-Shaked duo and the prime minister would lead to its downfall, were wrong. Not because of a sudden burst of love between Bibi and the Bayit Yehudi leaders, mind you—as they seem to be maintaining a relationship of a divorced couple that has failed to overcome unfinished business—but because the glue holding this government's components together isn't ideological unity but deep hostility.
One could say that hatred and abhorrence are the new "political match": like in tragic-comic TV series "Orange is the New Black," the relationship between Netanyahu and Avigdor Liberman or Moshe Kahlon is based on this formula, and they would definitely be as happy as Shaked and Bennett to see Netanyahu wear orange, or at least vacate his seat.
The purpose of this depressing introduction, believe it or not, is to offer encouragement. The road to a change of government—for the public who wants it, of course—may seem long, but citizens who are not necessarily carrying political flags are scoring achievements. We're not seeing a changeover yet: At the moment, the large majority is sitting at home, indifferent, but small groups of determined people have nevertheless been successful in fostering change.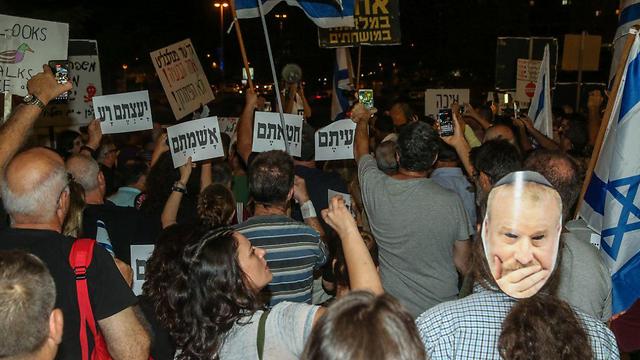 ake the disabled protestors, for example. The fact their protest bothered Israel's drivers was likely what drove politicians to jump up and do something. The struggle was successful precisely because it was equally justified and disruptive, and unlike other public protests, it emphasized the police's helplessness. Evacuating wheelchair-bound protestors by mounted police or dispersing the crowd with tear gas were out of the question, so it was clear that this protest could not be buried under another committee, as is Netanyahu's modus operandi.
Another joyful example of Israeli civil society's awakening has been witnessed recently in the results of the battle against religionization in state educational institutions: Parents in Givatayim and Herzliya have managed to change a policy introduced by NGOs affiliated with Bayit Yehudi activists into state schools and kindergartens by the back door. After parents found out that external religious NGOs—like Merhavia, which provides children with Orthodox content—were working to deepen their children's Jewish consciousness, going against the education they chose to give their kids, they launched a long and persistent struggle against the Givatayim and Herzliya municipalities.As a result, the municipalities issued a procedure imposing transparency restrictions on all NGOs operating in educational institutions. Following the new procedure, there has been a drop in the Orthodox NGOs' activity in about half of the kindergartens in Givatayim compared to last year.
This may also encourage dog owners in Ramat Gan, who recently discovered that a park designated for man's best friend is being shut down on Shabbat and Jewish holidays because it is located next to a synagogue. Determination, is seems, is the new name of the game here.
But the most important protest, which received the High Court's support Sunday, is the protest against government corruption through regular demonstrations outside the attorney general's home. Hundreds and thousands of people have joined this protest in recent months, and its intensity has sparked a heated debate on the essence of Israeli democracy. After a long battle waged by AG Avichai Mandelblit's neighbors against the protestors, with the aggressive backing of the police (who even arrested the protest's organizers, Meni Naftali and Eldad Yaniv), the High Court ruled the protests could go on even without a police permit and lifted the temporary limit of 500 protestors, which was imposed in August.
In her ruling, incoming Supreme Court chief justice Esther Hayut basically encouraged further exhausting democratic battles, both big and small, and provided everyone—even Ramat Gan's dog owners—with a modest shot in the arm.
As reported by Ynetnews