New York Rep. Eliot Engel writes US Secretary of State Rex Tillerson, saying that removing Israel from a video showcasing US President Trump's itinerary during his upcoming trip to the Middle East 'implies that the US accepts Saudi Arabia's public rejectionist position toward Israel.'
A senior US House Democrat on Monday assailed the US Embassy in Saudi Arabia for posting online an "incomplete and misleading video" that edited out mention of President Donald Trump's upcoming visit to Israel.
In a letter to Secretary of State Rex Tillerson, New York Rep. Eliot Engel said the embassy's editing implied that the United States accepted Saudi Arabia's refusal to recognize Israel as a state. Israel and Saudi Arabia do not have formal diplomatic relations.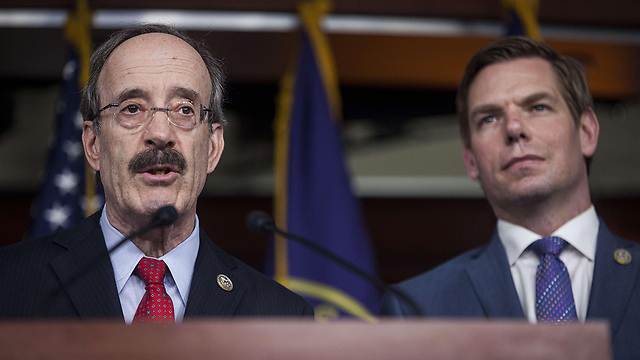 "At a time when the United States should be encouraging the governments of the region—and their people—to promote tolerance, respect and mutual recognition this video implies that the US accepts Saudi Arabia's public rejectionist position toward Israel," Engel wrote .
The edited video, which had been posted on the embassy's web page and its Arabic-language Twitter account, appeared to have been removed after the congressman complained. The original version, which includes a reference to Israel, is now on the embassy's web site. The State Department did not immediately respond to a request for comment.
Trump announced last week during remarks in the Rose Garden that his first foreign trip as president will feature stops in Saudi Arabia, Israel and the Vatican. Trump chose Saudi Arabia as his first stop to show his commitment to improving US relations with the Muslim world, according to senior administration officials. Trump will meet with Saudi Arabia's King Salman and other leaders to discuss efforts to defeat terrorism.
In Israel, Trump will seek to reinforce the US alliance with Israel. He met with Israel's prime minister, Benjamin Netanyahu, in Washington at the start of his presidency.
Engel, the top Democrat on the Foreign Affairs Committee, said the United States has long fought efforts by other Middle East nations to "delegitimize" the Jewish state.
"This video plays into a rejectionist narrative and thus has no place in any social media—or any other form of communication—associated with the United States government," Engel wrote Tillerson.
As reported by Ynetnews